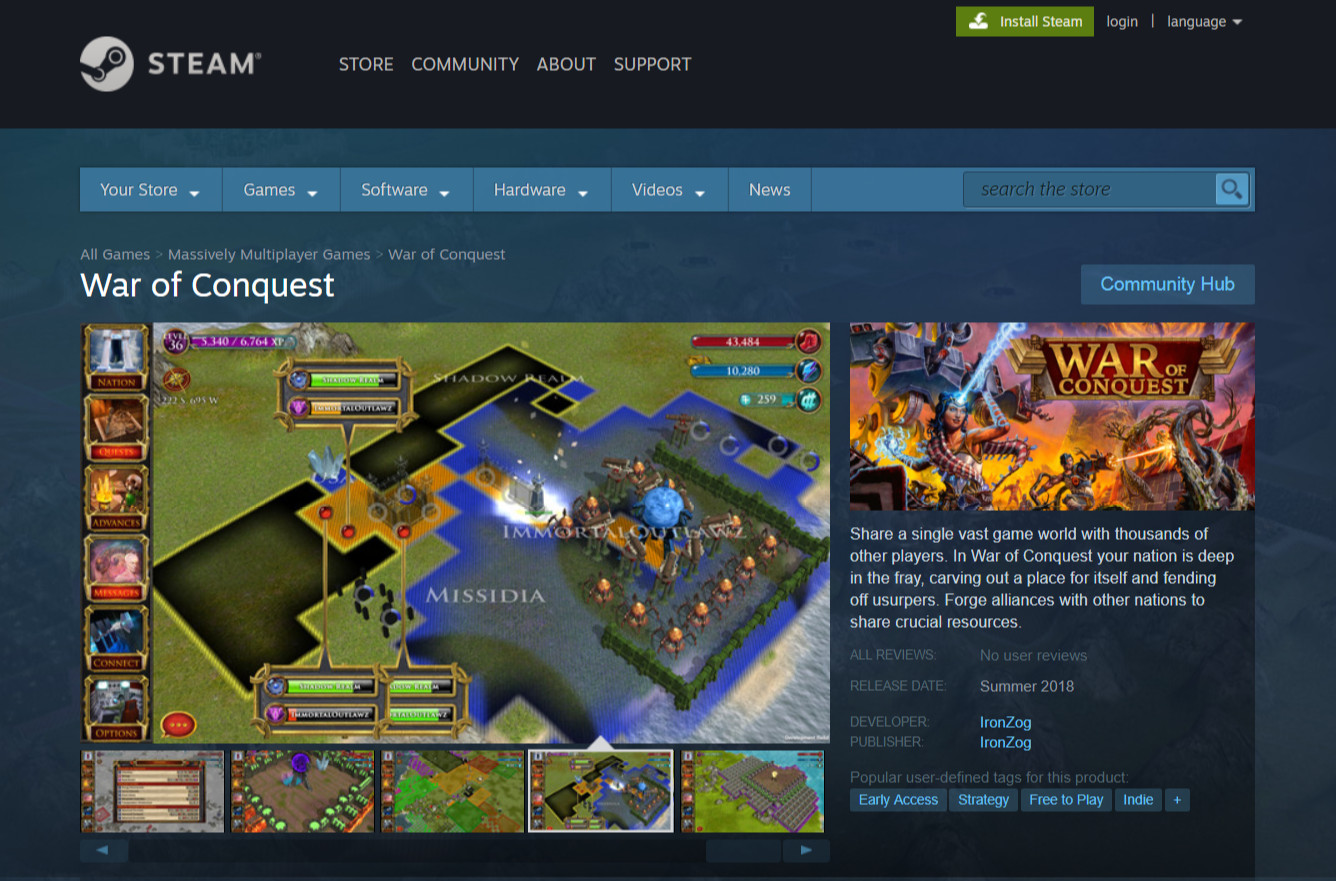 War of Conquest Comes to Steam Early Access September 20th
REHOBOTH, MASSACHUSETTS – 09/11/18 — IronZog LLC announced today that their Kickstarter-funded open world strategy game War of Conquest will be released through Steam's Early Access program on September 20th.
War of Conquest is a free-to-play massively multiplayer real-time strategy game that puts the player in control of one nation in a vast fantasy world occupied by thousands of other players' nations. The goal is to build up the nation's technological and magical abilities, as well as the player's skills, in order to compete to capture the mysterious Orbs of Power scattered throughout the landscape. The journey will entail battling over land and resources, developing advances, forging alliances, and constructing and upgrading a wide variety of defensive structures.
The Kickstarter campaign for War of Conquest wrapped up in October 2017 and exceeded its goal by raising $8,698. War of Conquest is a reimagining of an earlier game by IronZog that went by the same name. The original War of Conquest ran from 2002 through 2011, had over 200,000 players and developed a cult following that continues to be a presence on social media years after the game went offline. Many fans of the original came back to support the Kickstarter and have been taking part in beta testing over the past year.
What sets War of Conquest apart from other massively multiplayer nation building strategy games is that all players co-exist on a single game map. In addition to the free-for-all war fought on the game's main continent, nations can raid one another's home islands, in a one-on-one matchmaking mode that's especially geared toward solo and casual players.
"The game is feature-complete, but there's no doubt the Steam players will have some great new ideas to contribute and will expose rough spots that still need to be ironed out," explains Michael Ferrier, lead developer at IronZog. "Early Access will be a terrific opportunity to get feedback from a wider range of gamers, to work toward perfecting the game balance and to work out the final bugs."
War of Conquest will be released for Windows on Steam Early Access September 20th at 12pm Pacific time. It will also be available for Linux and Android through warofconquest.com. After the Early Access period is complete, the game will be released for PC on Steam, for Android through the Google Play store and for iOS though the Apple App Store.
Steam store page: https://store.steampowered.com/app/767300/War_of_Conquest/
Press kit containing images, video and more: https://warofconquest.com/press-kit/
Facebook: https://www.facebook.com/warofconquestgame/
Learn more about War of Conquest at warofconquest.com
###
Media Contact
Company Name: IronZog
Name: Michael Ferrier
Position: Founder and Lead Developer
E-mail: mike@ironzog.com
Phone: (661) 927-6326